Pathology Unit
(Clinical Pathology & Anatomy and Histopathology Lab)
Pathology Unit (PU) has both the instruments and the scientific expertise to readily meet the evolvingneeds of our clients. The involvement of PU in preclinical studies is intended to get morpho-functional correlates that, together with the "in vivo" observations and ADME assessments, accomplish a comprehensive interpretation on the toxicological and safety profiles of the investigated compounds.
The main applications of PU activities include:
Identification of treatment-related lesions, distinguishing adverse versus adaptive changes
Characterization of long-term outcome or regression after treatment discontinuation
Determination of the causes of unscheduled deaths and their relation to the treatment
Recognition of organs susceptible of toxicity
Proper planning of a platform of multidisciplinary studies can be suggested to the customer, on a case-by-case basis, with the purpose to rapidly achieve IND submission to Regulatory Authorities. Possible off-target effects are promptly communicated to the sponsor to allow refinement of doses, route and/or frequency of administration, in order to enhance safety margin. Our services are often designed to obtain efficacy and safety information, to help customers to shorten research time and reduce the number of animals involved in the experiments.
Experimental Activities

Clinical Pathology:

Standard parameters' evaluations on serum/plasma and urine samples

Customized assays for different diseases and metabolic syndromes

Identification of novel biomarkers

Anatomy and Histopathology:

Dissection procedures

Macroscopic evaluations of organs/tissues

Examination of histological sections
| | |
| --- | --- |
| | Standard referenced stainings, or special histochemical staining, according to purposes of the study |
| | Morphometric evaluations |
| | Image processing with dedicated analytical softwares |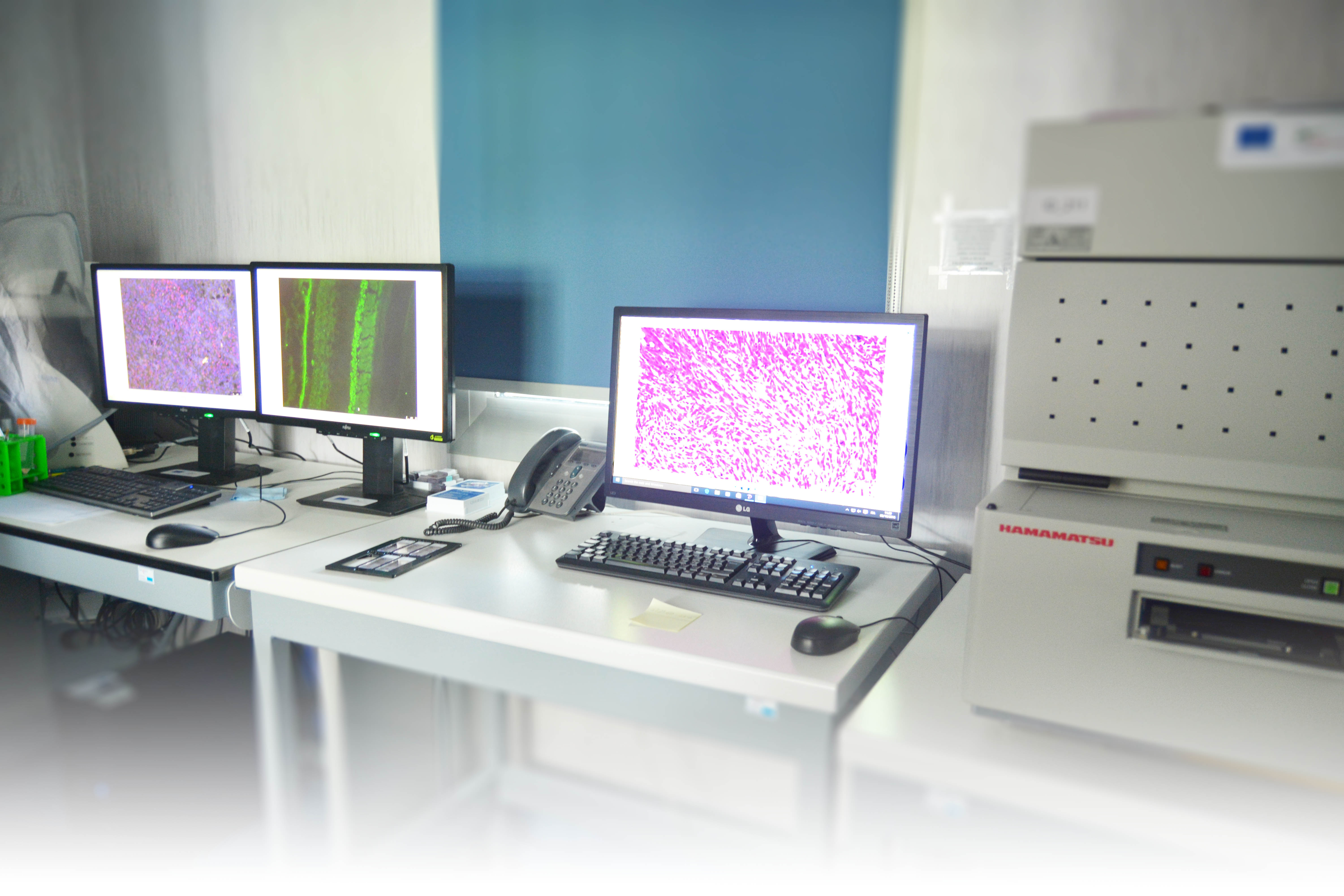 Age-dependent retinal atrophy in HEREDITARY RETINOPATHY MODEL Royal College of Surgeons rats

ORTHOTOPIC XENOGRAFT TUMOR MODEL OF HUMAN MALIGNANT PLEURAL MESOTHELIOMA.

Mesothelin (a) and Vimentin (b) immunodetection in tumor cells,

resembling biphasic phenotype.